NEED GYMNASTICS CLASSES IN YOUR SCHOOL?
Bright Stars Gym Schools have coaches ready !
We have a fantastic team of coaches that can fit around you and your schools schedules. We work closely with schools to make sure your needs are met. Gymnastics is so popular and not enough schools offer lessons so Gymnastics Clubs have huge waiting lists with over a year before spaces are offered. Why not have a Gym Club in your school hall? We can provide structured, safe and fun 1 hour lessons after school, or 45 min lessons before school. We also offer curriculum PE Gymnastics lessons (See below)
Fill out the form below and we will be happy to contact you...
Bright Stars provide coach's for curriculum based gymnastics during school hours. We offer in house staff training and lesson plans to allow teachers to develop their Gymnastics PE skills to increase their knowledge on progressions of the sport. We show teachers how to warm children up with a gymnastics head to toe stretch, set safe, fun circuits and skill stations based on group ability, support basic skills and cool down the group to finish.
We can also run staff training/inset days for Gymnastics lessons and encourage teachers at all levels to participate through 'watch and learn' coaching demonstrations. We understand that Gymnastics can be a sport that PE teachers shy away from, but this doesn't need to be the case. Gymnastics is FUN!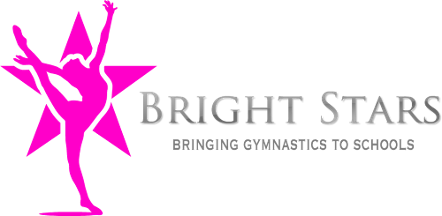 CONTACT US FOR CLASSES/PE LESSONS